A lot of good games released in 2022; Elden Ring, Tunic, Pentiment, Grounded, The Callisto Protocol, Horizon: Forbidden West… the list goes on. Despite the disparate genres, the varying budgets, the different philosophies of the development studios, all of those games had one thing in common: they're stressful.
Whether you're trying to break the circuits in a Thunderjaw's fangs or avoid the razor sharp riposte of a Godskin Noble's epee, 2022's games all put you through the ringer. But if you needed a rest from being blindsided by well-fermented revolution in Pentiment, or smacking your head against the obtuse world-building of Tunic, there was one place you could go to unwind: the blissed-out 'Gnarvana' of OlliOlli World. The game will be offered free to all memebers of PlayStation Plus from February 7 – and I think it's essential you at least give it a go.
Replete with pastel colours, brought charmingly to life with the pop of an Adventure Time art style, and coasting on one of the most chill game soundtracks you're ever likely to hear, OlliOlli World was a refreshing palate cleanser of a game in 2022. It's not open world, it's not crammed full of shit trying to kill you, and it's not obtuse to the point of irritation. It's a nice, simple 'what you see is what you get' kind-of game. All you need to do is learn your inputs, learn the rules of the world, and get your grind on.
Compared to the likes of Tony Hawk's Pro Skater, this game feels like more of an accurate reflection of skating in 2023: this isn't all ripped jeans and punk rock and six packs of beer. It's more meditative, more laid back, more electronic. Skaters of all shapes and sizes meet to celebrate the art of skateboarding in this peculiar fantasy world where literally everything seems to exist to make life on the deck better. Everyone talks about flow, about state of mind, about zen.
As they should. Because that's what this game excels at. The beating heart of the OlliOlli series (this is the third game) has always been the developer's obsession with getting players into the flow state. Think too much about what your fingers are doing, and you're going to bail. Play with your head – rather than your body – and you'll eat the curb sooner than you can say 'radical'. Once you've cleared the first few levels and learned the basics about how to ollie, when to grind, what manuals can do, and how you can build (and keep) your momentum, OlliOlli World sets you loose on its playground world, and asks nothing of you than 'empty your mind'.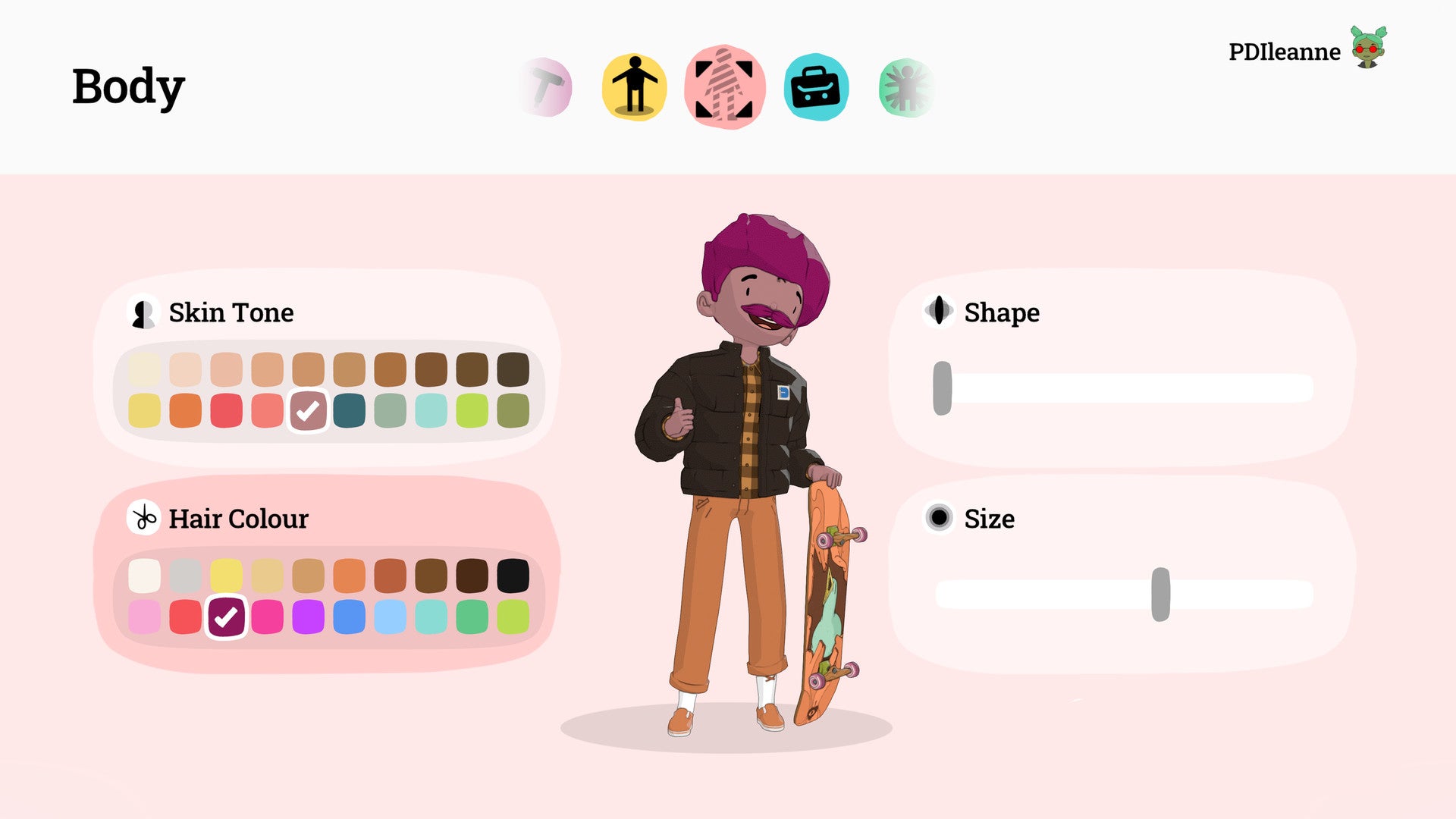 Once you get into that zen-like state – think of Bart Simpson saying 'tree falling in the woods, tree falling in the woods' to himself – the game opens up. You'll find yourself nailing objectives without pause, grabbing high scores that will embarrass your friends on the leaderboard, doing tricks that'd make even Bob Burnquist blush. As you clear more areas and sniff out more secrets, you'll also unlock more gear; whether you want to be a fae woodland hippie skating down the sidewalks, or a decked-out emo sk8r boi flipping over industrial waste, you'll get to live out your fantasy.
Before you know it, it's 2am (again), and you've got blisters on your thumb pads. You've progressed a few more zones into the weird, wonderful world of Radlandia, and it's time for bed. Better than any cup of chamomile, any hit of CBD, and most neat whiskeys, OlliOlli World has calmed you down and peaced you out. Even if you get trapped in one particularly gnarly bit of level design, or if there's one specific objective you can't quite complete, you'll have a good time grinding it out, over and over again, as you feel your brain unspooling and shedding the weight of the day.
It's a game that highlights the perks of free-spirited skating counterculture, all the while providing a masterclass in unputdownable gameplay – all dressed up in a welcoming, encouraging and engaging world. Just like skateboarding should be.