In a new interview Phil Spencer, the head of Xbox, said that "Xbox will exist" even if its massive deal to buy up Call of Duty publisher Activision falls apart due to continued and intense regulatory scrutiny and public pushback.
It's been over a year since Microsoft announced its plan to consume the game publishing juggernaut Activision Blizzard King. And since then, things haven't gone smoothly for all involved, as other tech companies and even nation-states have continued to criticize the proposed, mega-big $70 billion dollar deal. Xbox has promised to keep Call of Duty multiplatform, among other concessions, in an effort to ensure this massive merger is allowed to complete. But in a new interview, seemingly sensing danger in the air, Xbox boss Spencer suggested that Xbox would actually be totally fine without Activision, which seems like a major change of tune after Xbox spent the last 12 months suggesting it needed Activision to grow and compete against Nintendo and Sony's dominant PlayStation brand.
Talking to British paper The Times over the weekend, Spencer pointed out the real reason (according to him and Xbox) that the company was trying to buy up Activision Blizzard King, noting that it wasn't to snap up Call of Duty or to keep it off other platforms. Instead, he says the main purpose behind the deal is to help Microsoft "catch up" in the mobile market and eventually become a true competitor to Google and Apple's mobile stores. (He admitted that this possible future was a "long way" from today.)
Read More: Phil Spencer Says Halo Studio Remains 'Critical' To Xbox Despite Cuts
But what if this proposed deal and the plans to make Xbox a true player in the mobile space fall apart? Well, Spencer suggested everything would be fine—even if he admitted this was "an important acquisition" for Xbox.
G/O Media may get a commission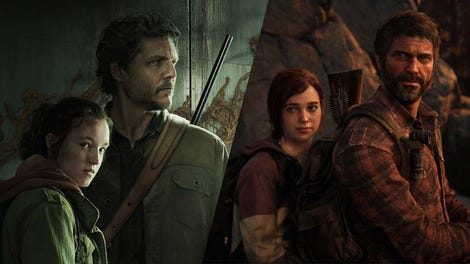 10% off
The Last of Us Part 1 (PC Steam Key)
Watch the show, play the game
If you're intrigued by the new show starring Pedro Pascal as Joel and Bella Ramsey as Ellie, consider picking up the source. The 2013 survival horror game recently got a full-on remake for the PS5 with The Last of Us Part 1 and now it's coming to PC as well. You can pre-order the Steam version of the game for 10% off from most Green Man Gaming which is set to release on March 28.
"It's not some linchpin to the long term—Xbox will exist if this deal doesn't go through," said Spencer.
Of course, this is true. But it does seem odd that after a year of emphasizing how dauntingly massive Sony and Nintendo's combined market share is, and continuing to say that consuming Activision would make Xbox more competitive and stronger, Spencer is now out there going, "Well, but we don't really need them. Good if it happens, I guess."
I guess spending the past year suggesting Xbox's exclusives suck and it can't compete against Sony or Nintendo's software output—even claiming that Call of Duty going Xbox-exclusive (which Microsoft claims won't happen) wouldn't help much—might have made investors and onlookers nervous. So, as the proposed deal continues to face scrutiny around the world, it seems like a solid time to go, "We'd be fine."